SYDNEY by night PRIVATE TOUR
Itinerary & Tour highlights
See Sydney Sparkle at Night!
The Sydney by Night tour should be on every visitors 'must do' list and is one of our favourite, best rated tours.
Sydney is stunning during the day but at night this harbourside city really sparkles!
Sit back, relax and enjoy the night with your own friendly, Aussiedriver/guide on this Luxury Private Tour!
We will take you to some of Sydney's most vibrant and famous landmarks at night. Guests will get to view the Harbour from specially selected locations on both the Eastern and Northern side of the Sydney Harbour Bridge.
The evening starts by heading East from the city through some of Sydney's more colourful and vibrant localities. The commentary provides guests with a fascinating account of how these areas have evolved over the years. You will see stunning Victorian and Art Deco buildings along with the bright lights of Sydney's former notorious red light district which is now becoming a highly sought after, gentrified area.
The tour then winds its way around the Eastern side of the Harbour and past one of Australia's largest and oldest naval bases at Garden Island.
The next stop is at the iconic Finger Wharf which is a favourite night spot and residence among local and international celebrities including Russell Crowe, Kevin Spacey, Naomi Watts, Simon Baker.....just to name few! There will be many opportunities to take photo's here and the Finger Wharf looks truly amazing lit up at night with the large Royal Australian Navy ships in the background.
Guests will then have the opportunity to grab a bite to eat and sample the famous 'Harry's Tiger' which is an Aussie Meat Pie & Pea's from the iconic Harrys Cafe De Wheels (there are other menu options to suit all tastes and dietary requirements). For over 80 years Harry's has been a favourite late night snack spot for locals and numerous international celebrities including Elton John!
The next stop is at Mrs Macquarie's Chair where guests will have another opportunity to walk around and see some of Sydney's BEST night time views of the Opera House and Harbour Bridge. (Bring your camera for this stop!!)
As the tour winds to a close we will then drive across the Sydney Harbour Bridge to the North side and stop at another fabulous location on the waterfront where guests will enjoy a glass of champagne, some canape's and admire the amazing view!
This tour departs at 7:30pm and concludes at 10:30pm
We pick up from Cruise Terminals, Airport, Hotels and Accommodation
3 hours Duration
$275.00 per Adult
$125.00 per Child (under 16 years)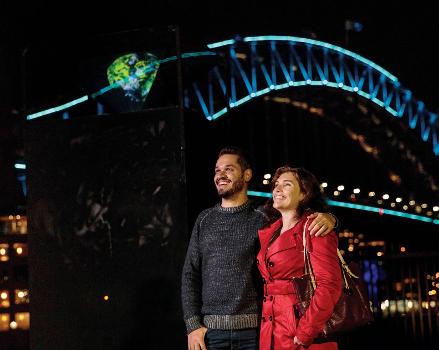 Luxury, Fully Escorted Private Touring
Pick up and drop off to your hotel, accommodation, airport or cruise terminal
Complimentary Champagne Supper
Dinner & any snacks purchased at Harry's Cafe De Wheels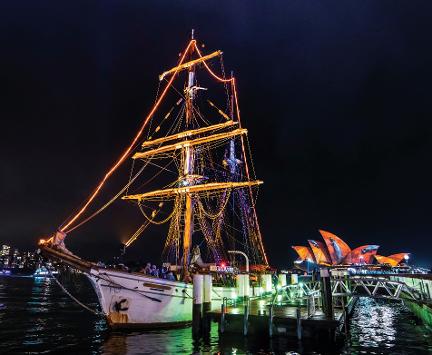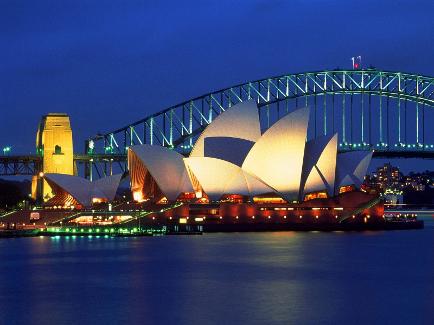 CONSIDERING THIS TOUR?
TAKE A LOOK AT THE TOUR PHOTO GALLERY
"Our guide, Scott, picked us up at our hotel at the agreed upon time. A tour of the neighborhoods was enhanced by Scott's expert descriptions and stories. We went through about 5 neighborhoods before dusk. We stopped at Harry's Cafe de Wheels and dined on Tiger Pies for dinner. Off to the park for night photos of the Opera House and Harbour Bridge. Next was an area under the Bridge for more night photos and a tour(?) of the most unusual public restrooms we have ever seen, followed by a champagne, cheese & fruit snack before our trip back to our hotel. We LOVED this tour."
Stewart, Buffalo Grove, Illinois
"What a fun night! Sydney is a busy, exciting city and totally different at night. The highlight of the evening was sitting out watching the bridge and the Opera House from across the water while enjoying champagne and canapes that were provided by our guide."
Susan, S. Manchester, UK
"I had a fabulous experience. Julia and Scott are not only true professionals but extremely thoughtful. The tour was informative and gave an opportunity for remarkable pictures. I was feeling ill and Scott stopped at a Chemist to find me medicine - so kind. I considered canceling as I was under the weather but so very glad I didn't. This is more than worth the modest cost."
E. Gordon, Aberdeen, Scotland
"Nice guy and nice tour. If you are doing a day time tour as well, there will be some overlap but the city is quite different at night. Grab a light dinner before you go as canapes are served at the last stop. It was lovely spot. The perfect weather was an added bonus."
P. Oppenheim, Florida, USA
OTHER TOURS YOU MIGHT LIKE...